Ok! so apparently, the week of the 20th to 26th of February is National Chip week! I love chips! and by chips, I mean proper steak and chips sort of chips, not any of this whole-"chips are those things in a bag you have a lunch"-thing. Fish and chips, a chip butty, ham, egg and chips! Those sorts of chips are the ones I am talking about! (I will admit that I did have to search for "fries" to find these patterns!)
So let's get on with it then, here are some wonderful things you can crochet inspired by chips!
As I have recently moved from Cornwall, I thought we could kick things off with a pasty and chips! this pattern is available on Bottletopboy's Etsy store.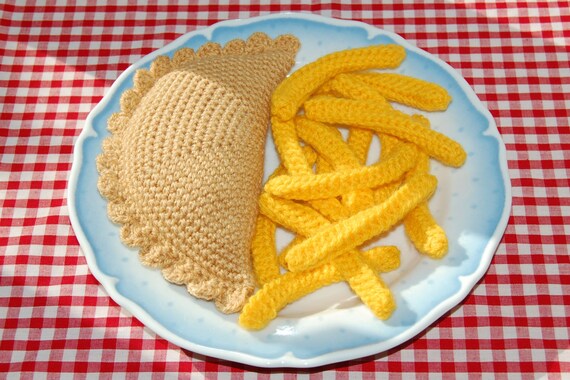 It looks so yummy, doesn't it?! I think this blog post is going to make me hungry!!
Our next pattern is this adorable little box of fries! so cute! This is a part of a fast food set including patterns for a burger and hot dog as well and can be found on youcute's Etsy Store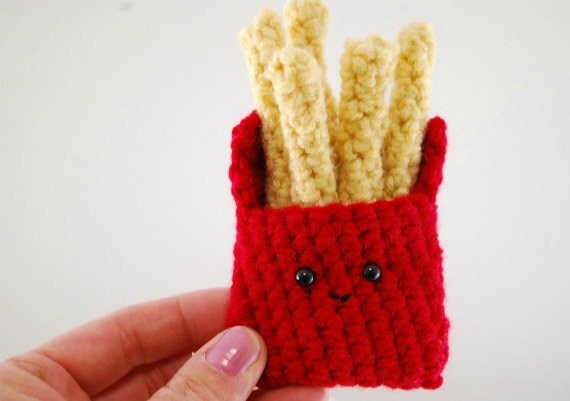 Finally, as everyone who has visited the seaside and had fish and chips knows, the gulls have a nasty habit of trying to nick your chips! this adorable fellow was crocheted for the yarnbombing I helped with in October. The pattern is from Edwards Menagerie, a book with over 40 patterns for different birds!